AUTOMOTIVE PAINT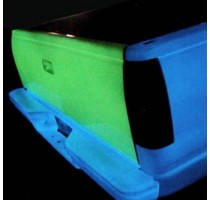 The Nightglow paint is a photoluminescent paint. It absorbs the light and glows during the night. This natural process is made possible thanks to its particles that can be excited by any source of light, and that are able to emit light at their turn during a long period of time. The colour green glows all night after 30mn of recharge.

TYPE OF PRODUCT
The Nightglow paint is a technical range to be used by spraying only. It's an automotive paint (mono-component 1K basecoat to clear). To use on car body (car, motorcycles, helmet, bike...) with a primer and a clear coat for car body.

ASPECT
The paint is semi-transparent during the day and must be applied over a white background. It is of course possible to use other light colours (green, yellow, fluo...) In that case their aspect will be coloured by day and luminous during night.

PROPERTIES
It dries very fast and creates a very thin film. It allows to apply a large number of coats without drips (up to 10 coats). The more passes, the stronger will be the capacity to recharge to light.

EFFICIENCY
Before to start any work, one will take into account the various intensities depending of the colours. Note that the paint will be fully efficient in complete darkness and won't be able to fully glow if an ambient source of light is present (lampost, urban area).

LIFETIME
The phosphorescence diminishes gradually with the night and goes away more or less depending of the time/intensity of the charge. The temperature is also a parameter: the hotter it is, the more the phosphorescence activates.

Phosphorescence lifetime: Up to 15 years.

Product in stock.