PHOSPHORESCENT DECORATIVE WATERBASED PAINT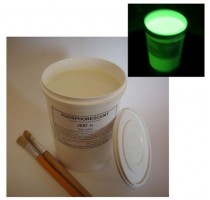 The decorative phoshorescent water-based paint MOONGLO® recharge with light during the day (sunlight, UV, electric lighting). 



ASPECT :
They glow in the dark and will light during a long period of time. They are completely colourless by day (they can appear of a whitish colour on a dark background)


COMPOSITION : 
Water-borne acrylic resin emulsion. 
They are 100% solvent free, non toxic, and environmentally friendly. Their scent is agreeable and their texture thick.



TIME OF LUMINANCE:
Up to 12h in complete darkness after only half an hour of exposure.
It's recommanded to apply the paint over a white or light colour background (any colour of background is possible, but light backgrounds allow a more intense and long lasting effect)


RESISTANCE:
Waterbased paints are the least resistant: outside, painted on a floor, they will disappear after 3 or 4 weeks with rainfall.


PRECAUTIONS OF USE:
Phosphorescent waterbased paints DECO MOONGLO are not harmful and are not considered dangerous when used in normal conditions.

The range of paints AERO1K, is a professionnal technical range, very different: very fluid, they can be used with a gun spray and are highly resistant.