Outside Pathway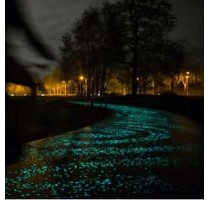 Over the next few years, modern man will seek all the means available for saving and preserving our energy sources.
In cities, light switching (light pollution) during the last part of the night, will undoubtedly be one of these measures.
City dwellers will then have the chance to contemplate the starry sky, however they must also find new, economical, durable and environmentally friendly means to find their ways around in the dark.

Our photoluminescent products are a perfect alternative solution, because they can light up our paths, by a perfectly natural process that requires no maintenance or power supply, and which life is greater than 50 years.

Marking and signals are thus possible with our innovative products: Ask for our catalogue and do not hesitate to contact us to discuss the possibility to realise all types of objects according to your own preferences and requirements.