Phosphorescent gems, pearls and jewellery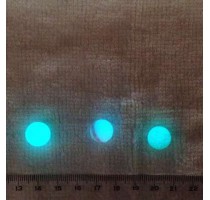 ArcoIris SAS offers a wide range of phosphorescent gems, pearls and even jewellery. These precious stones have a natural luminous power. They are finely cut and polished, and some are pierced. The stones are very hard and indestructible. In the dark, they display a green, turquoise or blue luminescence.
These mineral synthetic stones are available from stock in various diameters from 6mm to 30mm, into a round or oval shape, and in different package sizes.