Spraygun and airbrush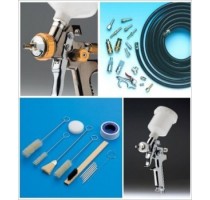 A range of spray paint guns and gravity or suction feed airbrushes, as well as spare parts and other accessories.

For amateur painters:
Do not hesitate to contact us for advice, in order to select the complete equipment necessary to realize paintings on motorcycle / scooter / body parts.
Spray guns, hoses and pneumatic threads, everything can be found on our site. A 50 Litres air compressor available in supermarkets and specialty stores will provide the sufficient air intake to paint and clearcoat a motorcycle.

Stock: All items are in stock and shipped from our warehouse in the Gard area (Zip code 30) in 48H to UK, for all orders placed before 3PM.