PHOTOLUMINESCENT PAINTS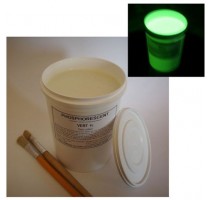 SCROLL DOWN TO FIND ALL OUR PRODUCTS !!

All phosphorescent paints are colourless during day and 95% transparent. It's usually recommended to apply them over a white background.

We make different types of photoluminescent paints. HOW TO CHOOSE ?
- According to application methods (roller, brush or spray)
- According to its destination (inside, outside, wood, cars body...)
- According to desired properties (resistance, waterproofness)
- According to harmfulness criteria: water paint are more comfortable to use

TIPS TO GET A GOOD PHOSPHORESCENCE? (Parameters to take into account)
- Adequate number of passes (at least 3)
- Total darkness (no ambient lighting)
- Time and type luminous recharge
- Light colour background (white rather than dark)
- A strong phosphorescent colour rather than a low one (green rather than purple)
- Temperature (heat excites phosphorescent effect whereas cold inhibes it)
All products below are in stock in different colours and sizes

SEE THE PRODUCTS BELOW :
« How long does a phosphorescent paint glow » is a frequently asked question: colours with strong intensity such as blue green and green charge very quickly and can glow during several days. Their luminosity will simply decay gradually with the hours. In concrete terms, these same colours will still be visible in a dark room, after a full night. Wear over time is almost nonexistent, as the lifetime of phosphorescent products can exceed 15 years for most of them.
It is important to note that phosphorescent products are generally intended for indoors, as they need complete darkness to fully work. The luminous pollution released by lamposts and lightings in urban areas has to be avoided. In all cases, it should be taken into account that only the blue green and green colours will give long and satisfactory levels of luminosity. To find further informations on phosphorescence, please visit our blog. For very specific questions, our technical team can be contacted by email.

sub-category of PHOTOLUMINESCENT PAINTS