FLOOR PAINT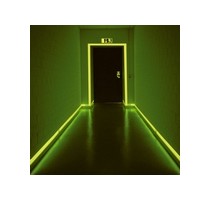 HIGH QUALITY FINISH, INDUSTRY AND FLOOR
Up to 12h of glowing for 30mn of exposure.

This photoluminescent paint is ideal for marking on the floor. It's one of the most hardest, intense and luminous existing range.

EXCEPTIONAL QUALITIES:
Good resistance to scratches and shocks, heavy foot or car traffic, bad weather conditions
Good chemical resistance
High degree of gloss
Temperature performance: 180°C

DESTINATION:
Parkings, streets, warehouses
Type of supports:
Stones, cement, concrete, paints or any primed materials

APPLICATION:
With roller, brush, spraygun, airless pistol
The paint is composed of two components to mix before use: 2 to 5 coats have to be applied. Use within 30mn maximum after mixing.
Special note: We recommend a white or light background to achieve the best luminosity.
Drying: Touch dry 1h30. 24 to 48 h before service. 7 to 14 days for complete polymerization (maximum hardness )

DISCOUNT:
According to quantity: Please contact us by mail to get a quotation.