PHOTOLUMINESCENT EMERGENCY EXIT SIGN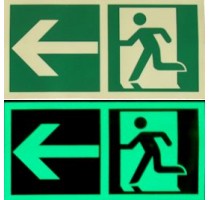 Photoluminescent safety markings

The only luminous signal that is infallible and that doesn't need any maintenance !

The photoluminescent signals and adhesives for emergency evacuation charge very quickly under any kind of light and will glow longer than it took them to load up. They don't need any care nor electrical power and have a very long lifetime. A simple cleaning is sufficient.