Special effects paints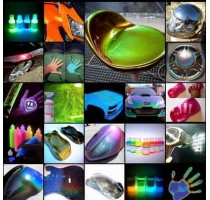 Here is a rare selection of amazing paints, called special effects paints, to produce quite exceptional colour, light or reaction effects.

Special effect paints differ from classic paints by their very specific properties allowing them:
- to react to the external environment, in the same way as "alive" and reactive paint
- to present a variable or extraordinary coloured appearance.

Their characteristics provide them with opportunities in many application areas (security, decoration, industry). Any object can be painted to obtain an amazing visual aspect.

Special effects paints are of course technical paints, rare and expensive.