FLUORESCENT PAINTS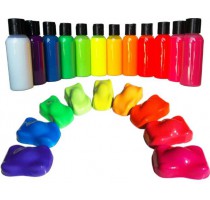 The fluorescent paints are well known by everybody for their flashy and bright colours.

The word phosphorescent is often confused with fluorescent! Phosphorescent paints are the ones which glow by night.

The fluorescent paints, thanks to a molecular chemical process, reflect more light (thus more colour) than they receive. They are part of the photoluminescent paints family.